First, I wanted to make note of some of the things I'm lusting after. I was in Macy's today and literally had to pry myself off the cardigan to the top right. (French Connection; $158) as you can see why. There is no way I'm spending that much money on a cardigan. But it was perfect. Exactly what I'm looking for. Exactly. I found another one to the top left. (Top Shop; $90) for a little bit less of a price tag, but still pretty pricey for me. I'm just going to have to keep on the look out because I'm wanting a gold studded cardigan so, so bad!
I also got the WhoWhatWear article about patterned tights I feel pretty much on the bandwagon with my opaque tights, but must get these heart print tights! (Top Shop; $16) I also loved the shorts in this article, especially with the tights. A studded belt to add to the cardigan and I'd be set! (Top Shop;$40) Have you noticed that I'm in love with Top Shop? Oh, you just wait.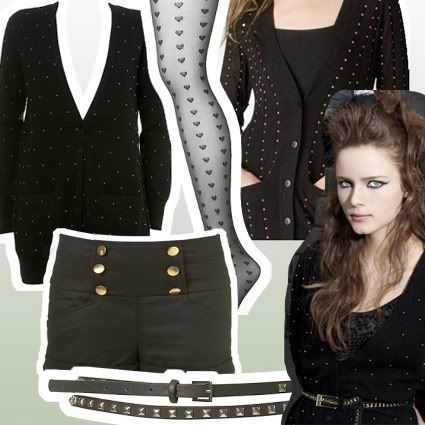 Living in Michigan is really tough on fashion because it gets so cold in the winters. Snow, awful winds. It leaves no room to be fashionable. I kept thinking to myself that I need winter inspiration, and fast. Then I came across Top Shop's Highland Fling collection today. The chunky scarves, baggy cardigans, knit tights, knee-high boots, studded belts, hoods, florals, mix of patterns, neutrals, hats. How more perfect could this style be for the coming winter months? I am so inspired for the upcoming cold now! Who knew! I'm absolutely in love with this entire collection. It's perfect.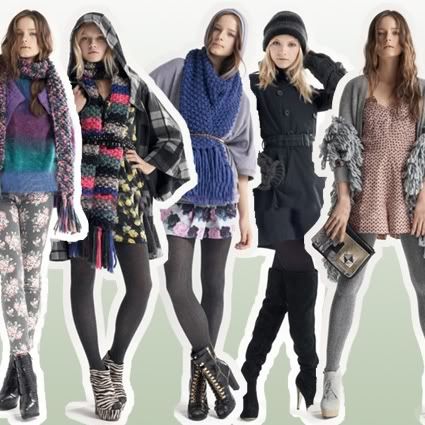 I also bought a few pieces to fulfill this style today; and am really thinking about wearing it for fashion week. I already had my exact outfit picked out too! I was gonna go classy, black, gold and pearls. We'll see, I need Andrea's expert advice.