I've been featured in Who What Wear's November | Style Stalker article!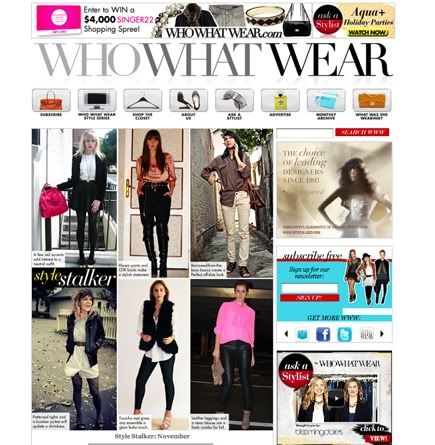 Read the full article here.
I seriously was not expecting this at all. I was sitting at work this morning and I get a new email from whowhatwear.com (love my daily emails from them!) If you don't get them already, you must sign up immediately. It's like a constant trend update delivered right to your inbox every morning. It's perfection. Anyway, I opened it up and was like "Yay, real girl street style!" and ... there it was... a photo of me! I like flew back in my rolling office chair and covered my face in my hands for like a serious five minutes before I could move. I couldn't even read the article. When I finally gained some composure, I read the entire article and just nearly had a heart attack seriously. I felt these pangs in my heart, haha! I paced around the office.. just like.. oh my gosh. Seriously. What an amazing thing to happen. I'm seriously so thankful and just so amazed that I have been featured. ASDFAS!! I was just reading their book the other day at Barnes N' Noble and I watch their TV episodes all of the time. What an amazing, amazing, amazing day. I can barely contain all of my excitement. I'm still so excited just typing this out, hahaha! Thank you so much for all of you who read and support me in this crazy endeavor of mine. I love you all and this is such an amazing experience for me. Seriously. I couldn't be happier doing something that I love and that inspires other people. How absolutely amazing!